Das Brückla – Beer garden in Muggendorf
09.10.2020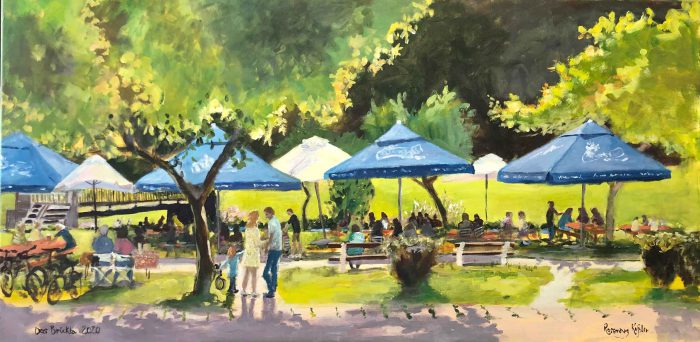 So thrilled to be asked by the pub landlord of Das Brückla in Muggendorf, Dusan Kisberi to paint a picture of his beer garden. I hope I have captured the happy feeling for you that I always have when I'm sitting in there.
The pub's beer garden is on the banks of the Wiesent River, every now and then a canoe floats by. Good food, friendly helpful waiters, easy to spend a few hours relaxing just enjoying the view in our wonderful Franconian Switzerland.
The finished painting is 120 x 60 cm and here you can see how the commission progresses…..
Biergarten Brückla

Preliminary sketch

WIP1 Brückla Biergarten

WIP2 Brückla Biergarten

WIP3 Biergarten Brückla

WIP4 Brückla Biergarten

Fertig! Brückla Biergarten